Please Donate
All extensions listed here are released as
beggar ware
. That is they are released free of change under their respective licenses with one caveat. You have to listen to me beg. No I don't mean annoying pop-ups in the program I mean right here.
Free software is not self sustaining. Your downloads are using bandwidth, hosting the installation files takes server space, and development and support take time. I spend a lot of my free time developing, expanding, and supporting the software you'll find here on my site. It is great fun but unpaid. I believe that software should be free unless you have a support staff available and the application is fully tested in all possible configurations. That is obviously not the case with any of the software you find on my site.
I'll let you decide: How much is this software worth worth to you? Try my extensions, and if you like it come back and make a donation via PayPal. This money will be used to cover the costs of hosting but more importantly it will act as a source of encouragement. Please support further development!
Make payments with PayPal - it's fast, free and secure! (PayPal on a secure connection)
Xinha Here! Firefox Extension
Xinha Here! is a Firefox extension wrapper for the Xinha HTML editor. It enables WYSIWYG editing in any textarea and text box on any website. Xinha Here! opens a Xinha HTML editor in your browser allowing you to edit the data in a WYSIWYG on any website without copying and pasting to secondary HTML editor.
Because the Xinha editor is installed on your local machine rather then a server it is both portable (use it on any website) and fast (files don't need to be transferred over the net). This extension goes great with the SpellBound spell checker extension. I use it on eBay, my WordPress blog, leaving comments on other blogs and forums, anywhere where HTML is accepted.
Installation
You can always find the most up-to-date version of Make Link at the official Mozilla add-ons site:
Download
.
License
The Xinha Here extension is released under the same license as Xinha which is licensed under the original HTMLArea license. Please look
here
.
How to use Xinha Here
Place the cursor inside the text area or text box you want to edit. Right click to bring up the context menu (control + click on Mac). Select Xinha Here from the context menu. Edit the text in the Xinha WYSIWYG HTML editor. Press OK and the valid HTML is pushed back to the original text box.
Known Bugs/Issues
Text in bottom bar twitches.
Work around: when the text begins to twitch minimize the bottom bar (click the separator between Xinha from the web page). Then restore it (again click the separator). The twitching will stop.Fixed in v0.12 thanks to Hisateru Tanaka
Right clicking in the bottom bar doesn't work.
Unfortunately I've been unsuccessful implementing the right click in the bottom bar. If you need right click functionality open Xinha in a window.
No Xinha Here! Menu.
There is no menu for Xinha Here other then the right click menu. The right click menu only appears when you right click after placing your cursor in the text area/input box.
Toolbar's tooltips do not work in bottom bar
Work around: minimize the bottom bar (click the separator between Xinha from the web page). Then restore it (again click the separator). Tooltips should now work.
Some toolbar drop downs are obscured by the text box
Unfortunately no fix at this time.
Xinha Toolbar button doesn't work
The Xinha toolbar button only works when the cursor is inside a text entry field. Otherwise the button should be grayed out and disabled. Sometimes the button appears enabled when it is not. This is a known bug.
The edit table feature does not work.
This is a known bug with no work around at this time.
Firefox spell check does not work.
I've been unable to get spell check to work within the bottom bar. Spell check does work when Xinha Here is opened in a new window.
Version History
Version 0.1
Version 0.2
Incorporated latest Xinha nightly build
Firefox v1.5 compatible
Version 0.3
Fixed bug with popup Xinha features
Xinha nightly build: Nov. 30, 2005
Version 0.4
Restored full compatibility with SpellBound and other context menu extensions
Added options dialog. Change skin and active plugins.
Xinha nightly build: Dec. 11, 2005
Packaged as Firefox 1.5 only
Version 0.5
Restored backwards compatibility with Firefox v1.0.x
Fixed issues with popup window sizes
Now persists data after options change
Version 0.6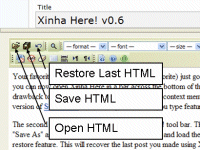 Xinha Here is now much better at remembering it's source element when opening multiple windows
Improved window sizing/resizing
Open Xinha within the browser (Awesome!)
Xinha skins now apply to whole window
Added a Xinha plugin specifically for advanced functions (adds features like save as file, open file, recall last input).
Added automatic updating (only in FF 1.5)
Fix bug in Firefox 1.0 where plugins list doesn't scroll in options dialog
Version 0.7
Added Open Xinha Here outside of tree menu for easy access
Now open Xinha Here using Alt-X form any text box
Flocked!
Version 0.8
Typo in version 0.7 broke automatic update. Fixed.
Version 0.9
Can now select language for Xinha.
Now use shift-click to strip cartridge returns/line feeds from returned text. Useful for websites that process line feeds.
Enabled Full Page Xinha plugin.
Now use ctrl-shift-x to open Xinha (alt-x disabled).
Xinha nightly build: Trunk (Thu, 19 Jan 2006 14:10:25 +1300)
Version 0.10
Enabled tooltips in bottom bar.
Made bottom bar the default mode (can still be changed in options dialog).
Improved internal file system, may be faster to redisplay Xinha.
Eliminated modifications to Xinha core files (easier updating of Xinha core).
Bottom bar now opens and closes correctly.
Added Client side spell check using SpellBound. Must have SpellBound installed and Xinha Here Toolbar active.
Now hold shift while opening Xinha Here to treat text as preformatted (all HTML is treated as literal text, line spacing is preserved, and tabs are translated to non-breaking spaces).
Improved about dialog.
Changed restore button image to avoid confusion with undo.
Compatible with Firefox 2.0
Version 0.11
Xinha 0.92beta: Trunk (Mon, 26 Feb 2007)
Added new languages and skins to options
Skips unsupported or missing plugins in config variable (prevents issues with plugin name changes)
Version 0.12 (All changes thanks to
Hisateru Tanaka
)
Fixed bug causing Xinha editor not to load when no plugins were selected
Included Japanese localization for XinhaHere toolbar plugin
Expanded localization of XinhaHere toolbar plugin
Open/Close file now UTF-8
Extension localized to Japanese
Fixed bug casing flicker/blink in the editor under some circumstances
Xinha editor can now be reduced to smaller width and height
Version 0.13
Xinha 0.95: Trunk (4 Apr 2008)
Compatible with Firefox 3.0
Now updates from addons.mozilla.org as required by Forefox 3.0
Added "Open Xinha" toolbar button
Set editor to gave focus on startup
Version 0.14
Fixed bug that prevented localization (thanks to Hisateru Tanaka)
Fixed bug that prevented "Open Xinha" toolbar button from working in FF 3.0.3
Fixed bug "Open Xinha" toolbar button when using small icons
Version 0.15
Compatible with Firefox 3.5
Version 0.16
Compatible with Firefox 3.6